Wild Africa Taxidermy has over 30 years experience in the field of taxidermy. We offer world class taxidermy
to all our clients all the time.
NB. The cost of packing, crating, transportation of raw and mounted trophies is NOT included in our price list
and are for the client's own account. You will receive a quotation for packing and crating with your trophy
mounting quotation.
Terms and Conditions
All prices EXCLUDE VAT.
50% deposit on receipt of trophies. This payment will confirm the order. Failure to make this payment
within 3 months will attract a storage levy. We require full payment within 30 days of notice of completion
of trophies.
Trophies not collected within 8 weeks from the date of notification will be sold to defray expenses.
The full cost for the preparation of raw trophies is payable in advance.
Flat skin tanning is fully payable in advance.
We accept no responsibility for tanning failure.
We are not responsible for any defect which may occur as a result of poor field preparation. Repairs to
field damaged skins and horns are subject to an extra charge.
Taxidermy Africa is not responsible for any loss or damage due to storm, fire, theft or political riot, or any
reason whatsoever. Taxidermy Africa is not responsible for trophies in transit to, or from our premises.
Prices are subject to alteration without prior notice.
Miscellaneous Charges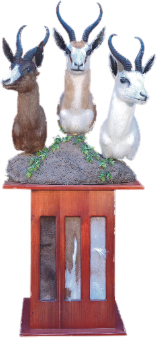 Insurance can be arranged for trophies on our premises and in transit at an extra cost.
All custom mounts 20% extra.
Shoulder mounts requiring wooden shields will carry an additional charge of 20%.
Half mounts are 60% of the full mount price.
Crating/Packing charges: 20% of total order for mounted trophies, 25% of total order for raw preparation
CITES,General and Veterinary Permits as per annual Government Legislation.